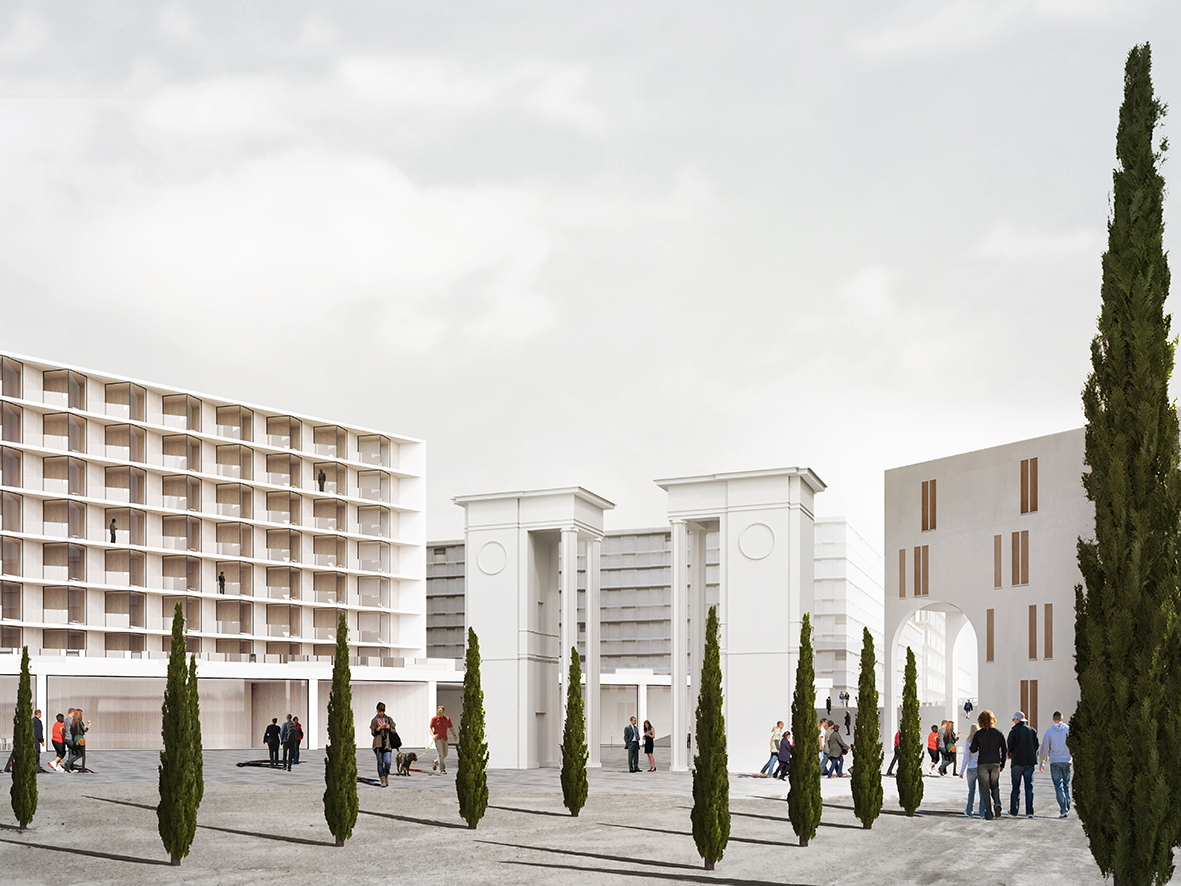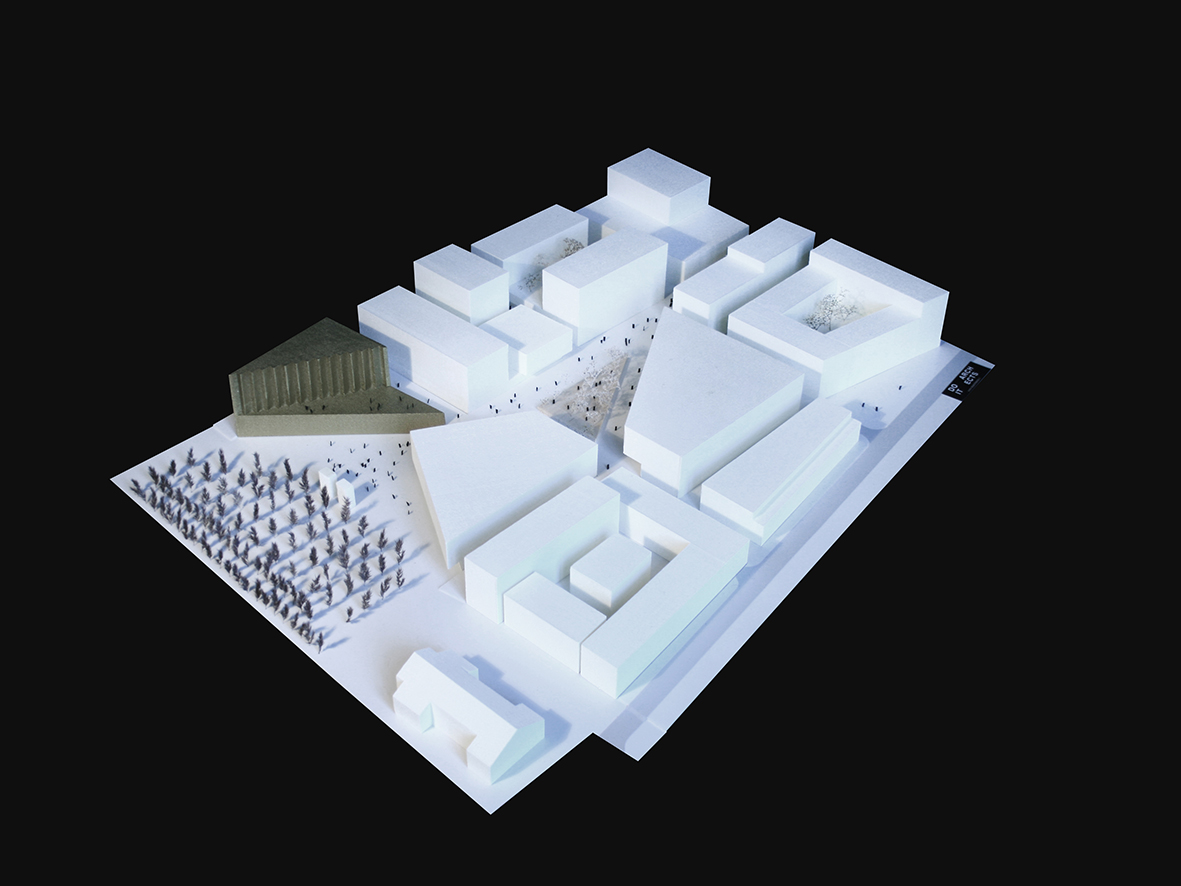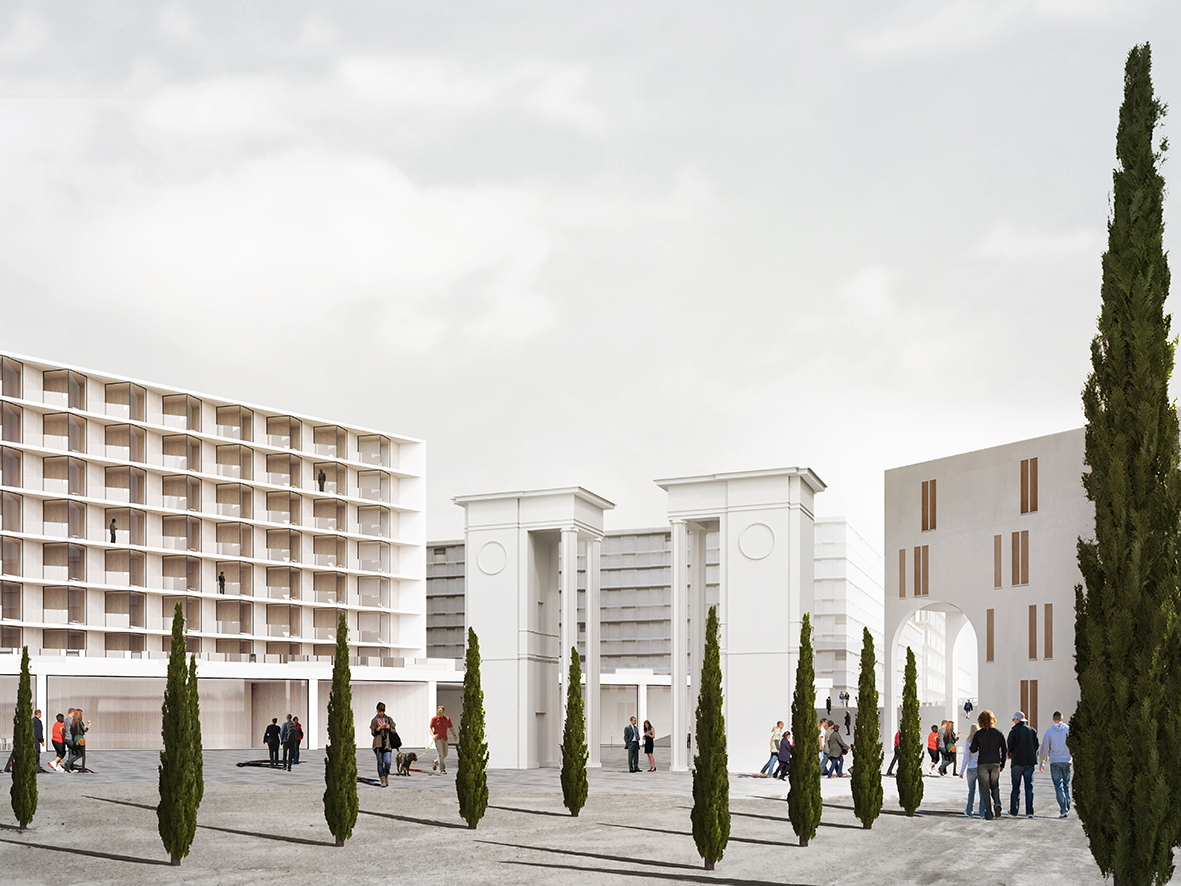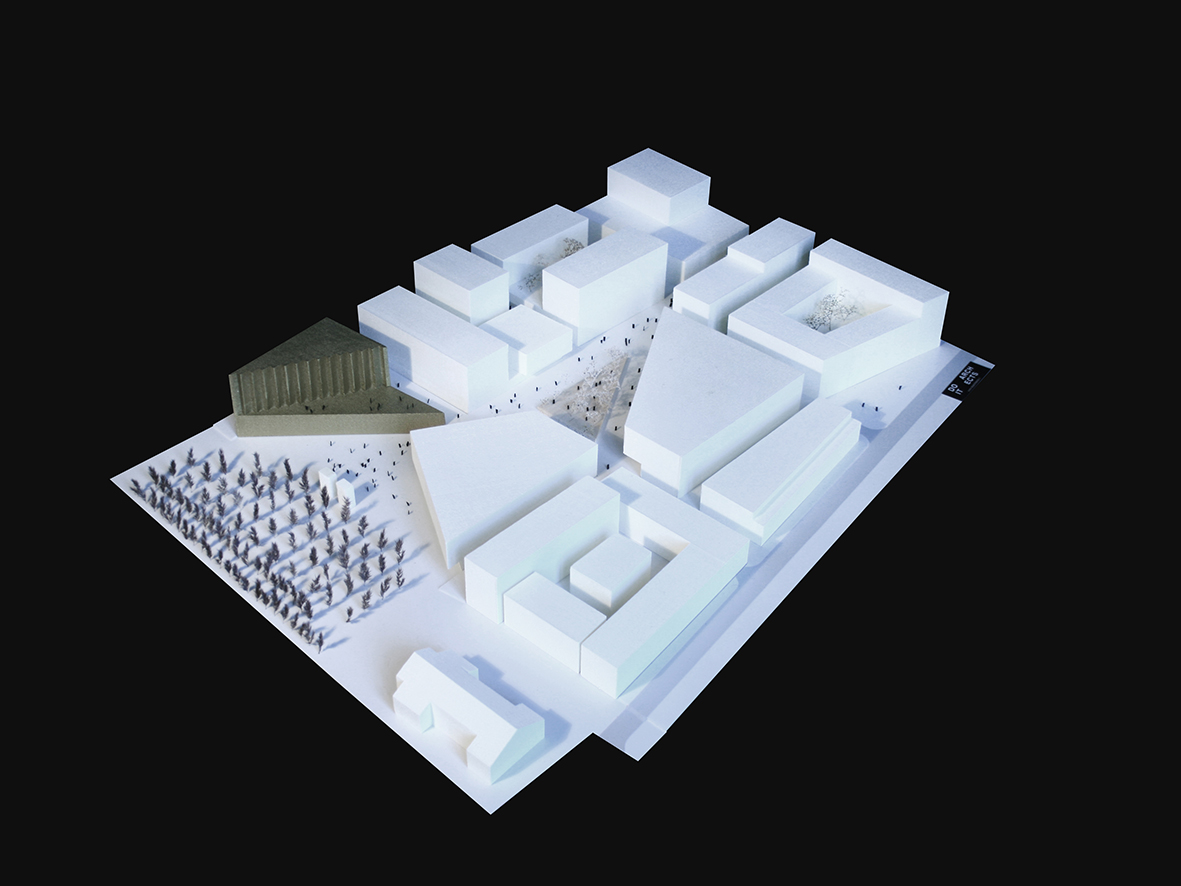 Piromont Hotel Vilnius
Type: Public
Status: Competition
Area: 8704 m²
Year: 2016
Location: Vilnius, Lithuania
Team: Gilma Teodora Gylytė, Karolina Čiplytė, Algimantas Neniškis, Gediminas Aismontas, Domantas Baltrūnas
Assistants: Vadim Babij, Simona Subačiūtė, Mindaugas Karanevskis
 
FORMER ŽALGIRIS STADIUM ARCHITECTURAL COMPETITION
3RD PLACE WINNER
ŽALGIRIO STADIONO TERITORIJOS IR VIEŠBUČIO KONKURSAS
3 VIETA
Soft cedar shadows cast unto pure, white gravel, the aroma of freshly roasting chestnuts, and the heritage gates of an historical icon of Vilnius - these are the atmosphere defining features that unite the people of a city. A striking triangular building actuates this place.

The former Piromont suburb of Vilnius was born as a fishing neighbourhood, before becoming a villa area and the location of a Jewish cemetery, and later evolving into the sporting centre of the city. Now, a new era begins for Piromont. The planned multifunctional integrated city quarter will become the major focal point of Vilnius' New City Centre.

The first stage in the successful transformation of the area is the construction of a hotel that would establish and define its prime corner site. The hotel will function as an open invitation, distributing both pedestrian and vehicular traffic flows through its triangular floor plan. Such a strong first impression of the site will dictate and characterise the quality and tone of the entire surrounding area.

The hotel's 175 rooms promise a warm, comforting and typically Vilnius stay. The rooms face the city's famous Old Town, with views to the towers of Gediminas Castle and Vilnius Cathedral. Each guest is welcomed by enticing, spacious and transparent entrance spaces, and further guided throughout the hotel by spaces of equally high quality. The hotel's flexible conference halls are adaptable to events of any scale and significance.

A neutral interior colour palette applied to delicately selected natural materials, panoramic views and sophisticated design all combine to shape an extraordinary atmosphere of being in an exceptional space.
Balta skalda, švelnūs tujų šešėliai, kepamų kaštonų kvapas, istoriniai vartai buria miestiečius. Naujas Piramonto verslo centras taps svarbia miesto dalimi.

Istoriškai ši vieta buvo Vilniaus priemiestis Piromontas - pirmiausiai žvejų, žydų kapinių vieta, vėliau miesto vilų, sporto komplekso kvartalas. Dabar naujasis daugiafunkcinis miesto kvartalas turėtų tapti dešiniojo Neries kranto pagrindiniu traukos centru. Pirmas ėjimas sėkmingo teritorijos vystymo etape yra pagrindinio teritorijos kampo suformavimas - čia planuojamas viešbutis. Paveiki pastato forma paskirsto srautus - viešbutis veiks kaip atviras kvietimas, tiek pėsčiųjų srautui, tiek pravažiuojantiems Rinktinės gatve. Toks stiprus įvedimas į teritoriją, bei srautų ir funkcijų paskirstymas diktuos kokybę ir užduos charakteringą toną visai aplinkinei teritorijai.

Viešbutis siūlys šiltą, vilnietišką viešnagę. Dauguma kambarių bus orientuoti į Vilniaus senamiestį, pro langus matysis Gedimino pilies bokštas ir katedros varpinė. Atviros, erdvios, skaidrios, ir kokybiškos įėjimo erdvės pasitiks ir bendraus su svečiu. Lanksčios konferencijų centro salės lengvai pritaikomos įvairiems renginiams. Viešbučio interjere parinktos natūralios charakteringos lietuviškos medžiagos.

Kvartalas alsuos tarpukario dvasia, intelektualia erdve, pasiekimais ir turiningu laiko leidimu.